A farewell to Nicky Fitzgerald
It is with a tinge of nostalgia that we say farewell to Nicky Fitzgerald who has recently stepped down as CEO of Angama Mara and retired from our industry.
I have had the privilege of a friendship with Nicky and her late husband, Steve for over 40 years, from the beginning of their journey in Arniston.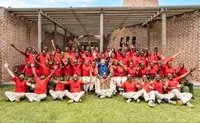 Loved and respected by all
During the past decades I have witnessed Nicky at work, in almost every facet of the hospitality industry, ensuring every lodge under her watch delivered delight to the guests, from the back of the house to the boma dinner, nothing escaped Nicky s watchful eye.
Loved and respected by all who worked with her, Nicky has left a lasting mark on the industry.
Since 2014, my relationship with Nicky was enhanced by my involvement with Angama Mara since its opening, as a shareholder, director, and trade partner, in addition to the many times I stayed as a guest and enjoyed the lodge at its best, with no stone left unturned.
We acknowledge a very special woman who exemplifies the true spirit of Africa and its people.
Go well dear Nicky, your "retirement" will be exciting.
Best,
Marco van Embden