Why go on a safari now?
Going on a safari is a transformative experience. Spending time on safari teaches you about celebrating life and living it to the full. After months of various limitations that have affected many aspects of our lives, spending your days in nature will be nothing short of epic. Whether out on an adventure in a safari vehicle or learning on foot about the language of the bush from those that know it best, you will be kept enthralled and engaged throughout a safari. It is also a time where, together, you can find beauty, tranquility and joy in nature together.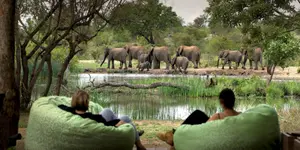 Whether it is a Family Reunion, a special occasion to get together to celebrate a missed milestone during lockdown, a family getaway for the upcoming school holidays, or just some time to relax and rejuvenate, a South African safari is the perfect answer.
Private Reunions and Celebrations:
Planning a multigenerational safari with grandparents, parents and children, a group of friends or those wanting to get together to celebrate all those special moments missed – means having to consider what each person would enjoy, appreciate, and take away from the experience. Booking out a camp exclusively or a private villa allows you the freedom to plan your entire schedule and experience a safari at your own pace.
Book a private/exclusive use villa
Whether you are planning a special occasion, such as a family reunion, or just wanting to enjoy quality family time together, everything is done according to what you want when you book a private/exclusive use villa. Your group will be able to wake up as early, or as late, as they please, head out on game drives at their leisure and shape the safari of their dreams.
Tailored to your desires
All meals are tailored to your group's desires, and daily activities can be pre-arranged to ensure everyone makes the most of their time on safari. Private properties offer outstanding, personalised safari experiences with specialist guides, private vehicles, in-house chefs, and a full team on-hand to ensure your time is as outstanding and memorable as can be.