The best working farm stays
There's nothing like a farm stay to reconnect your spirit with the land. Whether you are looking for learning about conservation and sustainable farm practices or want to learn about medicinal plants; sip wine right from where the grapes were harvested; mountain bike or simply just stroll around the farm, there are many options to choose from when on holiday in Africa. These are a few of our best farm stays.
Gibbs Farm, Karatu, Tanzania
This historic organic farm and family coffee plantation covers over 80 acres on the outer slopes of the Ngorongoro Crater in Northern Tanzania, overlooking the Great Rift Valley. Here you will discover a sense of wellbeing, tranquillity, and history, deeply rooted in East African culture and community, a welcome retreat for a few days' respite while on safari or extended vacation. Experience a real working farm as you explore our organic 10-acre fruit and vegetable gardens and 30-acre coffee fields, among a variety of other farm activities.
Boschendal, Franschhoek, South Africa
The sprawling grounds of Boschendal, one of the oldest farms in South Africa provide space to run and family-friendly dining options, as well as several activities especially for kids. Guest accommodation ranging from the historical Herbert Baker designed Cottage 1685, to beautifully restored farm cottages. With privileged access to the farm, guests staying in the cottages will be able to savour the best of farm living. Join a farm tour or explore the estate on foot, following trails that take you through orchards and mountain fynbos. There are mountain biking routes, walking paths, caves to explore, wine tasting, cellar tours, swimming in the dams and plenty of opportunities to sit, read, relax, and generally take in the goodness of life.
El Karama House, Laikipia Kenya
El Karama Lodge is situated on the equator at an altitude of 2 000 metres or 6 500 feet, on a private working ranch in the heart of Laikipia, delivering magical views of Mount Kenya, the Aberdares and the Lolldaiga Hills. Children's bush school activities, fly camping, horse riding, game drives, exquisite meals prepared with fresh farm produce, walking safaris are great ways to experience the 14 000-acre ranch. It is a successful working ranch supporting cattle and sheep. Here you can visit the ranch HQ, the cattle and herdsmen and some farming activity taking place: milking, calving and cattle inspections. A way up north there is an incredible orphanage for young elephants. It's quite a long drive or a short helicopter trip, but definitely worth the trip.
One & Only Nyungwe House, Rwanda
After a morning of Chimpanzee Trekking, why not take a wander through the lush Gisakura Tea Plantation that surrounds One & Only Nyungwe House jungle resort on a guided tea estate tour, followed by an elegant African tea ceremony and a unique private dining experience. Hugging the rippling hills at the western fringes of Nyungwe National Park, this estate is among the most famous of Rwanda's tea plantations and is certainly the most spectacular.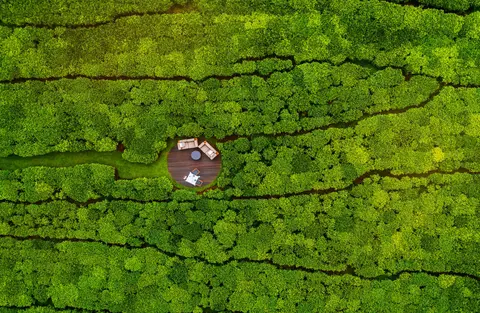 Babylonstoren, Franschhoek, South Africa
Our second South Africa listing, but as we live just 45 minutes from Babylonstoren, we had to include our favourite farm stay. Set within 3,5 hectares of cultivated fruit and vegetables, the big garden at Babylonstoren is at the heart of the farm. It was inspired by the historic Company's Garden in Cape Town, which supplied sailing ships of the Dutch East India Company with fresh vegetables and fruit during the days when the Cape was a halfway station between Europe and Asia. Children love the interactive daily tours and the freedom of being able to taste, touch and smell everything as they explore the grounds. You can recover from all the excitement with a refreshing pressed juice or a more satisfying snack at the Greenhouse Restaurant, which is ideal for families.