Escape the winter blues on an Island Getaway
From the Maldives to Mauritius, the Seychelles to Mozambique or Madagascar, an Indian Ocean Island promises miles of pure white sandy beaches, unique and eclectic marine marvels, authentic cultural experiences, fabulous water activities and the opportunity for plenty of R&R. A beach holiday is perfect for all – honeymooners, groups of friends and families and for any celebration, there is something for everyone to enjoy.
Our Six Top Islands are:
Mauritius
Glittering like the crown jewels of the Indian Ocean, the island nation of Mauritius never ceases to amaze in terms of pure white sand beaches juxtaposed against colourful tropical gardens and jade coated mountain slopes. Fantastic beaches, lagoons and reefs, interesting local culture and lush mountainous vegetation and you will be spoilt for choice when it comes to first class resorts.
Pro tip: Non-motorised water sports and snorkelling equipment are normally complimentary, but motorized sports such as water skiing, scuba diving, parasailing and jet skiing come at an additional cost. Combine Mauritius with a South African Safari for the ultimate in exciting adventures.
Where to stay:
Splurge: Tranquility, elegance, luxury; all these elements mark out The Oberoi as something special. Whether you stay in the Pavilions or the Villas, not only will you enjoy your own private garden, but you will be cocooned in the lap of luxury. Grand Baie is there if you want it but for those who want nothing to do with the outside world, gourmet a la carte dining is on offer throughout the resort.
Barefoot luxury: On an island packed with so many beautiful beaches and wonderful lagoons, you might wonder how you can improve on perfection. The 3 Star Plus Veranda Palmar on the East Coast of Mauritius maybe located on the most beautiful stretch of powdery white sand you have ever seen. Add to this the huge lagoon that runs down that side of the island and you have warm and calm seas offering perfect conditions for water sports above and below the surface. The resort has charm and intimacy, perfect for couples, yet families and groups of friends will also find something special here. 77 rooms, decorated in peaceful and relaxing hues add the final perfect touch. All Inclusive basis means you know how to budget before you get there, leave the stress at home.
IMAGE LEFT: Tropical gardens, majestic mountain ranges, perfect beaches and gloriously turquoise waters are your constant companions at The Oberoi.
IMAGE RIGHT: A powdery white sand beach awaits at the charming Veranda Palmar in Mauritius

Maldives
A chain of 26 atolls and more than 1,000 islands in the Indian Ocean, the Republic of Maldives is one of the most sought-after tropical destinations in the world. It's dense with megawatt luxury villas and overwater bungalows, and the diving is unreal.
Pro tip: The Maldives are at their best between December and March, although keen marine-o-philes will love seeing the whale sharks between January and April. Choose a Fully Inclusive resort and package, as drinks can be very pricey. There are flights to the Maldives from East African safari destinations like Kenya and Tanzania,
Where to stay:
Splurge: From a desert island hideaway to over-water luxury, Soneva Maldives resorts offer pristine beaches, sparkling turquoise seas and unforgettable experiences. But setting a new benchmark for over-water luxury is Soneva Jani. There's something for everyone, from rare family experiences or couples' indulgence to gastronomic delights and relaxing therapies.
Barefoot luxury: A 55 minute speedboat transfer brings you to the island of Meerufenfushi and its sole occupant, g ; a lovely, well-established barefoot laid-back island and the chilled atmosphere makes for the ultimate relaxing holiday that caters for all tastes. But don't think that there's nothing going on, there's an excellent house reef, beautiful lagoon and the most perfect stretches of beach; a golf driving range, putting green and 9 hole pitch and putt course, Euro Divers Scuba Centre and great evening entertainment. Stay on the beach or over-water with Jacuzzi options for both and eat and drink at one of 4 restaurants and 7 bars.
IMAGES: Experiences at Soneva Jani are created to inspire your senses with a unique selection of excursions; prepare yourself for days spent immersed in local culture, examining the marine life, gazing at the stars or relaxing in our very own over-water cinema.

Seychelles
One of the best islands in the world; plenty celebs have spent their honeymoons on the North Island of the Seychelles. Yet some stretches of sand are so deserted that parts of the movie Castaway were filmed here. One hundred and fifteen coral and granite islands rising up out of the Indian Ocean –A dream come true – calm azure waters, deserted beaches, tropical paradise and turquoise lagoons. This string of islands offers sparkling white sandy beaches and coral reefs bustling with sea life. The flora and fauna are unique, the mountains are covered in lush vegetation, and the landscape offers a stunning and multi-faceted panorama.
Pro tip: Seychelles offers a wide variety of things to see and do; from the prehistoric rainforest of Praslin's National Park to the 70 beaches of Mahé and endless water sports. You could take an excursion to Mahe's capital, Victoria, to admire its colonial mansions and meet the giant tortoises at the botanical gardens; visit tiny islands such as beautiful La Digue, perhaps joining local fishermen in their boat for a day's angling in the abundant waters. You will find proud national monuments, beautiful Creole houses, artists' studios, national reserves and marine parks. There are guided nature tours to enjoy some of the rarest species of flora and fauna on earth. Not forgetting the mellow Seychelles nightlife where you can take in a casino, some local bars and fine restaurants offering unforgettable Creole and international cuisine.
Where to stay:
Splurge: Set at the far north of an Indian Ocean archipelago, North Island is a remote tropical paradise that offers the ultimate luxury escape and consummate privacy. This is a haven for discerning travelers looking for bespoke, personalized experiences that evoke total relaxation and restoration. North Island features just 11 villas spacious villas offering each guest an unparalleled sense of exclusivity and luxury. North Island epitomises the freedom that complete privacy allows, extraordinary experiences, perfectly personalised to your preferences. The Island's abundance naturally extends to the luxury of choice that a peerless all-inclusive offering provides.
Barefoot luxury: Nestled along the secluded beach of Anse Volbert on Praslin Island in the Seychelles, Paradise Sun offers an idyllic seaside vacation with a wide variety of services and facilities, discreetly tucked away amongst a protective outcrop of enormous granite boulders.
IMAGE LEFT: Popular with Hollywood celebs and Royalty alike, it does not come much more exclusive than North Island, Seychelles
IMAGE RIGHT: At the quiet-end of a 2km stretch of white coral-crushed sand, bordered by granite boulders, Paradise Sun's collection of charming ocean facing French-Creole bungalows peek out from tropical flowering gardens.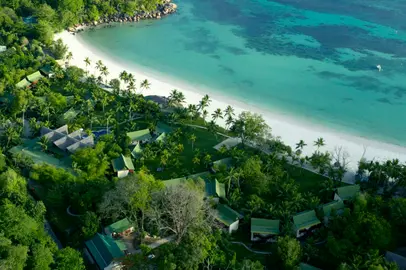 Zanzibar, Tanzania
Tanzania's most famous tropical isle is known for its spices, luminescent waters, and swaying palms. The destination has received more buzz than ever in recent years, thanks to a rich history and culture paired with a new swath of chic, barefoot resorts. Whether you spend your days lazing by the pool, sipping cocktails on the beach at sunset, diving in warm waters or enjoying a Dhow cruise around small islands, your Zanzibar holiday will be a memorable experience.
Pro tip: Start with a few days on Zanzibar Island, to explore its labyrinth of winding alleys, vibrant markets and spice plantations, then head out to your resort. Be sure to research the tides to ensure you make the most of the beach weather in December, January and February.
Where to stay:
Splurge: – Check out Zuri Zanzibar Hotel & Resort, an Afro-modernist village-style hotel that's brought serious design flair and social awareness to the Indian Ocean island. The hotel boasts its own private spice garden which is one of a kind in the area and, with its enormous tropical park, you will be able to enjoy the tropical breeze while taking a walk through the carefully selected trees and flowers that makes this resort so special. The bungalows and villas have been thoughtfully placed around the resort, hidden amongst the large tropical garden, to ensure absolute privacy and all have been fitted with an outdoor shower and a large terrace. With one of the largest lagoons on the island, the white powdery sand and the incredible colours of the Indian Ocean, it is the perfect place to sit back and bask in the spectacular afternoon sunsets.
Barefoot luxury: Set in a picturesque tropical garden with its secluded beachfront, the luxurious Pavilion suites at Elewana Kilindi Zanzibar, embrace wide-arched glassless windows affording spectacular views over the Indian Ocean. Each villa has its own private plunge pool and is tended to by its own Guest Ambassador. Guests can enjoy day boat trips, scuba and snorkelling to get a glimpse of the dolphins, copious fish and vivid corals that thrive in Zanzibar's waters.
IMAGE LEFT: Be sure to take a traditional Dhow sailboat cruise when in Zanzibar at Zuri Zanzibar hotel & Resort.
IMAGE RIGHT: The exotic spice island of Zanzibar offers plenty time for relaxing and taking in the local culture. Elewana Kilindi has direct access to the gorgeous reefs and ocean, perfect for exploring.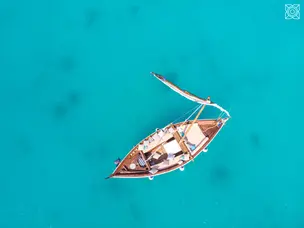 Mozambique
The Mozambique islands of the Bazaruto Archipelago—Bazaruto, Benguerra, Magaruque, Santa Carolina, Bangue, and Shell, are a protected conservation areas. Nicknamed the "Pearl of the Indian Ocean," with 2, 500 km of Indian Ocean coastline you will find an aqua-playground bathed in brilliant water colour hues. Swim with dolphins, experience the annual migration of humpback whales from July to September, set sail at sunset and lose yourself in nature's beauty in one of the last untouched paradises.
Pro tip: We highly recommend transferring from the mainland of Vilanculous by helicopter to the islands. The views of the crystal clear waters, so clear you can often spot jellyfish, and sandbanks is simply spectacular.
Where to stay:
Splurge: A tropical paradise tucked into a lush indigenous forest and looking out onto a picturesque crescent of sandy beach, &Beyond Benguerra Island is the quintessential luxury island retreat. Set among swaying palm trees, ten casinhas and two cabanas offer a light and airy colour scheme that combines tropical chic with a distinct African feel and reminders of the area's Portuguese heritage. Woven hammocks invite guests to an afternoon siesta, lulled by a chorus of songbirds that makes the forest canopy its home. A shaded gazebo provides the ideal venue for starlit dinners, while the stylish dining room and open lounge, both of which boast wide, sunny decks, are the setting for more social dining.
Barefoot luxury: Anantara Bazaruto Island Resort & Spa is surrounded by lush palm trees, beautiful white sandy beaches and the deep blue Indian Ocean. Guest areas include a selection of restaurants ― each specializing in tantalising seafood dishes – vibrant bars, swimming pools, a diving pool, tennis courts, a qolf course, and an activity centre. The adventures are endless ― water skiing, knee boarding, kayaking, wind surfing, horse riding, cultural drives, dune-boarding, birdwatching, as well as whale and dolphin watching. Sunset cruises, island excursions to Paradise Island and romantic, traditional dhow excursions are an idyllic way to explore the enchanting beauty of Bazaruto Island.
IMAGE LEFT: The lodge's colourful dhow-inspired bar, sheltered by swaying palm trees, is the perfect setting to relax or enjoy open air meals throughout the day. Set deep in cleverly created patches of shade, comfortable loungers beckon guests to relax around the pool while drinking in the ocean views.
IMAGE RIGHT: An endless stretch of beach to yourself at Anantara Bazaruto Island Resort perfect for families looking for a tropical island break.
Madagascar
Most countries in Africa are unique, but we think Madagascar is something quite special. Its flora and fauna are unlike anywhere else in the world, and the Malagasy culture is a rich fusion of Bornean, Polynesian and African people who landed on this lush island centuries ago. First explore the island's reserves where you will find lemurs, chameleons, tortoises, humming birds, cocoa, vanilla, ylang-ylang, papyrus and carnivorous plants and massive Baobabs. Then hit a luxury resort for pure beach bliss with a difference.
Pro tip: The Island is the size of France, so make sure you have enough time to explore and relax. If you are heading to the north of Madagascar, around Nosy Be, December is definitely the best time to hit the beach. This is the month when baby lemurs come along too.
Where to stay:
Splurge: An exhilarating helicopter ride over mountains, baobabs and shipwrecks dotting the wild coastline ends in a gentle landing on a remote private island off the coast of Madagascar. Miavana is located on the largest of five islands in a remote archipelago off the northeastern coast of Madagascar. Flawlessly designed to offer both unity and privacy, the Miavana Piazza offers several dining areas, a glittering infinity pool overlooking the ocean, a well-stocked wine cellar and bar, a curated Boutique and our Cabinet de Curiosities, where you can marvel at the treasures of Madagascar. Be sure to stop in and see the butterfly collection, an extinct elephant bird egg, pygmy hippo skeleton, antique manuscripts, ancient armour and amulets – among other rare finds. You can enjoy thrilling adventures, exploring the region with scuba diving, snorkelling, fishing, kiteboarding, ocean safaris, a variety of water sports, lemur trekking, quad biking and helicopter excursions. Combines brilliantly with the wilds of South Luangwa and Lower Zambezi Park in Zambia for a superb safari.
Barefoot luxury: Located in a nature reserve, Anjajavy l'Hôtel consists of a beautiful ensemble of rosewood villas scattered over a long sandy beach on the Mozambique Channel. The grasslands, vine-strewn woodlands and karst ridges of the estate are surrounded by mangroves and tsingy, which naturally lend it the character of a protected reserve. Recognized by the most eminent scientists as an inestimable, unique treasure of biodiversity and by ecology organisations as a shining example of sustainable conservation, this private reserve protects plants and animals which are as yet unknown to man.
So, escape your winter climate and visit one of the spectacular Islands for a Summer Break now!
IMAGE LEFT: After a day of water activities or searching for lemurs, toast to another perfect day in Africa at Miavana.
IMAGE RIGHT: Explore deserted creeks, little fishing villages and the Tsingy, coral remains sculpted by erosion and overlapping baobab roots at Madagascar's Anjajavy l'Hôtel.