Making the most of your Botswana safari
You may have limited time in Africa and don't want to spend all your days on the back of a safari vehicle … well, then Botswana has your name written all over it. From horse riding, to canoeing, to walking safaris and meeting local cultures, this is truly a dream destination for your safari holiday.
For such as small country, Botswana offers you an incredible wilderness area to explore, from the Kalahari Desert to the waterways of the Okavango Delta and Chobe River.
And of course, if you can't fit it all in on one trip, you will just have to return again…and again!
Here are our top 10 ways to explore Botswana:
1. Game Drives
Game drives reveal the rich wildlife of the area , where guided open safari vehicles allow a 'window' seat for all. You will find the Big Five (lion, leopard, rhino, buffalo, elephant), and other African wildlife.
IMAGE – Lions are always a favourite find on safari, seen here at Chitabe Camp.
2. Mokoros
Mokoros are what make Botswana safaris so unique. Gliding along the channels and waterways, being poled by your field guide, is a Must-Do experience. You will see tiny frogs, water lilies, amazing birds, and other water-adapted animals.
3. Motorized boat safaris
You are fairly likely to get close to Africa's river giant, the Hippopotamus, when on a motorized boat safari. If it's Elephants you are after, there is no place better than the Chobe National Park.
IMAGE – Elephants cooling off at Muchenje Lodge.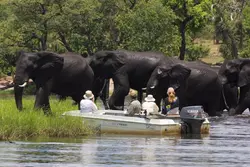 4. Walking
Any seasoned safari goer will tell you a walking safari is one of the best ways to really experience the wilderness. Even for the first-timer, the thrill of approaching Big Game on foot is a story that you will never get tired of telling. Many camps offer walking as a safari activity, and a few camps cater for walking safaris only.
IMAGE – taking time to take joy from all creatures large and small found in nature at &Beyond Sandibe Lodge on a walking safari.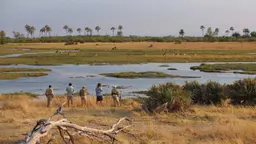 5. Horse riding safari
On a Horse Riding Safari your senses truly come alive with dry desert-lands and delta wetlands to explore. This fast-paced and exciting safari sees you galloping across the wide-open African savannahs, following ancient elephant paths and coming across unique wildlife.
IMAGE- See the zebra migration from horse-back at Jack's Camp.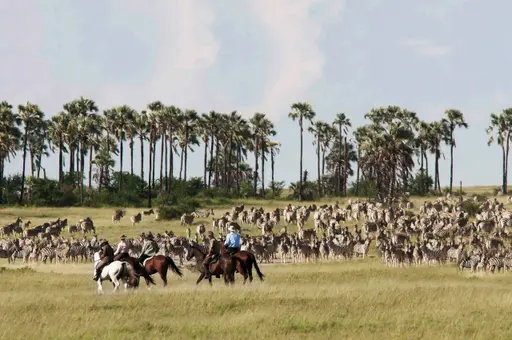 6. Let the locals show you - meet the San and the Meerkats
At certain camps in the Kalahari, you may meet the San (one of the oldest indigenous hunter-gatherer cultures on earth), known for their exceptional survival skills. During a walking adventure with them, you will learn about medicinal plants, their culture, tracking skills and of course hear some of their magical folklore.
In this same region you will find some curious creatures; Meerkats (Suricata suricatta), which is a firm favourite with all families on safari.
IMAGE LEFT – Learn fire-making skills from the San at Meno a Kwena Camp.
IMAGE RIGHT – Curious creatures and curiosities abound at Jack's Camp.
7. Twinkle Twinkle enormous skies
Twinkle Twinkle enormous skies await with a variety of Camps offering incredible sleepout experiences. From luxury Tree Houses to camping out on the Salt Pans, this is an ultimate Bucket-List safari experience.
IMAGE: Skybeds offer a totally unique safari experience; there are not many places in the world where you can sleep atop a wooden platform, with only a mozzie net between you and the stars and the call of the wild lulling you to sleep.
8. Take to the skies
Take to the skies as you explore the waterways of the Okavango Delta on a thrilling open door helicopter ride, offering you a unique perspective of the spectacle of Africa.
IMAGE – A number of outfitters offer incredible helicopter sky safaris. Credit Helicopter Horizons if not using video.
9. Soaring in a hot air balloon
Soaring in a Hot Air Balloon – imagine floating over the Delta at sunrise viewing game from above. Safaris are good for the soul!
IMAGE – Kadizora Camp is one of a few that offer the gentle soul safari experience of Hot Air Balloon Safaris in Botswana.
10. Family fun just got wilder
Family fun just got wilder as you traverse the Nxai and Makgadikgadi Pans on your All Terrain Vehicle (ATV). These pans are just perfect for this adventure – flat and smooth for good distances, meaning you can go pretty fast and access some interesting areas.
IMAGE – Jack's Camp offers ATV rides, where you will explore the lunar landscape of the Makgadikgadi Pans.