1. On Safari
Breakfast on the rim of an ancient volcano in Tanzania, with a view that will stay with you forever. Or descend into the Ngorongoro Crater and enjoy the incredible density of wildlife before making your way to a private spot on the Crater floor. Enjoy a mouth-watering meal served against the backdrop of grazing wildebeest and zebras and in the shallow Crater Lake, flocks of bright pink flamingos.
Picnic in the Serengeti or Maasai Mara while you watch the Great Migration crossing. In what is one of the most quintessential wildlife experiences on the planet, the Great Migration is an event unlike any other. Picture millions of wildebeest, zebras, gazelles, and other antelope species making this incredible journey across Tanzania and Kenya, with Big Cats following not far behind. Now picture yourself having front row seats as you enjoy a picnic on the riverside watching the spectacle unfold. And at sunset, it's G&T time of course!
Any South African will tell you, there's nothing better than a Braai. Whilst on safari in one of South Africa's iconic Wildlife Reserves, you will be treated to a wonderful Boma Dinner, around the fire, under the African sky. These are magical, but a truly memorable dinner is when your field guide ends your evening safari with a surprise braai (barbeque) in the bush.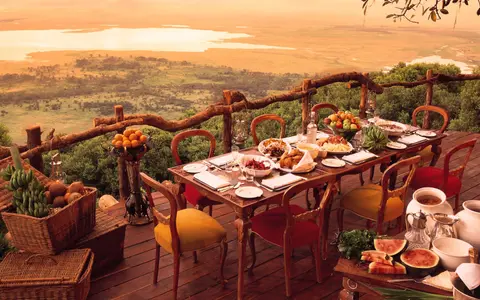 2. On the Beach
After I've been on a safari, I always feel it is time to shake off the safari dust and hit the beach for some surf, sun, cocktails and seafood! Beaches and islands in Africa are as varied as the enormous continent itself, each offering something unique. I am a fan of laid-back, toes in the sand type of beach holidays where you can have a Castaway picnic on a deserted island. You have the island all to yourself as you indulge in a decadent picnic set in one of the most secluded sites on the Bazaruto Archipelago, Mozambique. Delight in fare that is sure to tantalise your taste buds with an assortment of local delicacies to feed each other. No wonder this is Honeymoon Heaven!
3. In the Desert
Not too long ago, I spent some time amongst the Dunes in Namibia. This is a country with lunar and Mars-like landscapes that stretch as far as the eye can see, where the adventurous can play to their hearts content. Venture out in to the Namib Naukluft National Park, knows as the Namib Sand Sea. Here you can walk in the Deadvlei, where some 70 camel thorn tree trunks, 900 years dead, remain standing on a bleached clay pan. Then climb a sand dune, and for the fit and adventurous, conquer the towering 'Big Daddy'. Then in the evening, as you settle into the silence of the desert at dinner, take time to witness the vast night sky in this Dark Sky Reserve.
Fireside with the San on a Salt Pan, Botswana. In the dry season the Makgadikgadi Salt Pan is a desert covered in white salt crystals. After a day of adventurous quad-biking and meeting meerkats, lie out on the pan as the sun sets, and watch the planetarium of stars unfold. This is fireside cook-out at its best.
4. On the Water
Sundowners on an Okavango Delta sandbank, Botswana. Gliding along the waterways in a mokoro (dugout canoe), passing elephants having a swim as the sun sets, you gently approach the sand bank, where refreshments await. Another tough day in Africa.
River of Life, Zambia. The Sampan dining experience is the equivalent of floating on a liquid mirror with the African sunset reflected off the water. Cruise by boat to the middle of the Zambezi River where you have your evening meal with a night time chorus of frogs, hippos and birds. Each of the dinner courses are hand delivered to you by canoe. Now that is Luxury!
5. Urban Eats
The way to someone's heart is through their stomach and dining in Cities is where you get to the heart of a country. I'm not talking about just restaurants, but the markets, cooking with locals and really getting to know what makes a city tick by eating where the locals eat.
Kiss a giraffe at breakfast in Nairobi. Breakfast with the Giraffes is certain to tickle anyone's fancy. Give me some sugar!
Michelin man in Kigali. Before you head out to the rain forests for your gorilla trekking, how about a bit of fine dining at the Meza Malonga Lab. Chef Dieuveil Malonga, who has worked at several Michelin-starred restaurants, calls it a culinary laboratory, where guests can learn whilst eating. His team are innovating African ingredients, but always respecting local produce.
Rainbow Cuisine South Africa. South Africa offers a vibrant and eclectic cuisine influenced by the indigenous population as well as the Dutch, Indians, and French. What I love about South Africa is that there is such an incredible variety. From dining at The Test Kitchen by Luke Dale Roberts, a World's 50 Best Restaurant, to a picnic amidst the spectacular Cape Vineyards, or learning to cook Cape Malay dishes in the Bo-Kaap, to joining a family in their home for Shisa Nyama in the townships- here you will find anything and everything a foodie desires.
If you set foot in any of Africa's foodie destinations, don't leave without treating yourself to these magical culinary experiences. There is so much to discover, and I haven't even mentioned the tea, coffee, artisanal gins and wines… but that's for another time.
Bon Appetit, or as we say in Afrikaans – smaaklike ete!
Belinda